Payment Options
At Complete Dental Care of South Florida in Cape Coral, Florida, we offer various payment methods to give you options that work best for you. We accept cash, personal checks, and debit or credit cards.
CareCredit
Our office accepts CareCredit, a healthcare credit card that is used to pay for out-of-pocket expenses not covered by dental insurance. CareCredit is subject to credit approval, but once you are accepted, you can use it again and again. CareCredit is a great option if you're on a budget because you can pay for your dental expenses in installments. Ask us about CareCredit today! Applying is easy, and we are here to answer any questions.
LendingClub
Financing dental care, like implants or braces, is easy through LendingClub Patient Solutions. Our flexible and budget-friendly payment options help you to get the dental treatment you need. Payment plans offered through LendingClub Patient Solutions have competitive rates with APRs as low as 4.99%, and best-in-class approval rates which give patients the options they need to move forward with treatment.
Find your Dentist at LendingClub
GreenSky Patient Solutions Program®
The GreenSky Patient Solutions Program® offers you flexible financing to meet your needs. The program offers an easier way to pay for treatments and procedures not covered by insurance, or to cover your deductibles. We have plans that offer convenient payments. With more than $10 billion in loans, the GreenSky family of Programs offers trusted financing options to give you a simple and more affordable way to pay. With the simple click of the mouse, this secure service gives you access to:
Easy application process
Most loan decisions in minutes
Multiple promotional financing options for qualified applicants
Online tools to manage your account
Apply Now or Learn More and get the treatment you need now at a price you can afford.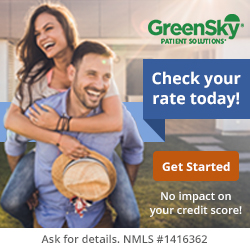 If you're interested in learning more about what our dental practice has to offer, please contact us at 239-772-3700 today! We treat our patients like family, and we're happy to welcome new members.